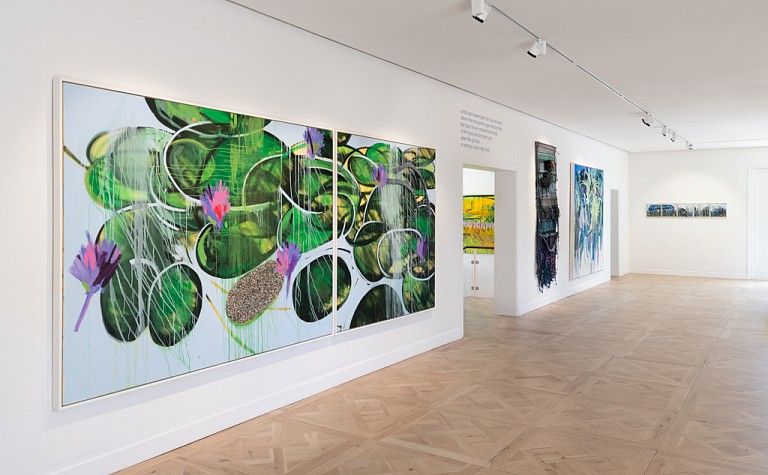 Moments, Movement and Memory: in Conversation with Liza Grobler
October 31, 2019 - Misha Krynauw | ARTTHROB
Stepping up towards Liza Grobler's studio, my eyes roam quickly up and over my surroundings as I ascend, the morning sun already making its way to the top of the stairwell where she's smiling at me from, bursts of colour peaking at me through the frame of her glasses. I made a mental note of the high ceilings as I set up my notebook and my phone to record. Her studio is spacious, and busy. There are twists of fabric knotted together, hanging here and there, and the wooden floors are marked with splashes of paint and painter's footfalls.
Liza describes the process of bringing 'A Rainbow in my Pocket' – her new exhibition at Everard Read – as somewhat back-to-front. Neither the concept nor the name came first, she insists, but rather an emphasis on what lays at the nexus of creativity; the actual undertaking. "My work is more driven by process, and action, and mark-making," she explains with rolling, wide hand gestures; the same way she likes to paint, it turns out, "A lot of my other work is site-specific. It always has a performative component, but usually in a more understated way." Evidence of Liza's mark-making stretches from A Portal Into Monet – Greenpoint Park (Diptych) yet in slower circles than it does in Broadway Bellies, both of which are particularly captivating.
Her current exhibition boasts a host of mixed media; incorporating a bevy of textures, concepts and colour. Yet, it is not this initial impact that emboldens the collection of artworks, but rather the universe created through her, by holding all these pieces in one space. "When I started with this, I was trying to capture the memory of movement through different spaces." Liza then married that notion with the thought of what could correlate all these experiences with one another. Everard Read described the pieces of work as, 'these scapes [which] become windows onto an inner world that is always under construction and constantly in flux.'
Upon your entrance to the exhibition space, Grobler tasks the viewer with following in her footsteps which she recounted with this current showing. Her journey moves between spaces from Brooklyn, New York, to Kogelberg Nature Reserve right after a fire devastated half the region, then to the Karoo, and to Cape Town again. Liza's journey is wandering and wondering combined.
'A Rainbow in my Pocket' is open-ended, jarring and far-reaching, and Grobler does an outstanding job in pulling all of these elements, feelings and memories into scapes that embody something other than chaos. Nestled within each frame is the opportunity for both the artist and the viewer to transcend their ideas of shape and form at the behest of pure, unfettered imagination. "I wanted to guide the viewer without instructing them," she explained. "[The exhibition] is a search."
Moving Til The Stars Align is a piece that most aptly expressed the core concept Liza explored with 'A Rainbow in my Pocket'. The piece articulates both in title and execution, the departure from the literal linework of reality, in order to assemble an interpretation that honours the state of flux that is being. Liza sharpens the focus on the movement between this location and that, and circles them within her own visions, to create and recreate that singular, ephemeral realisation of having a presence. Then in turn, we are tasked to mimic her processes in discovering the exhibition for our selves. The piece also speaks to the subtext that guides viewers into the realm of her thinking; introducing the concepts of cosmos and otherness drawn in by her dedicated explorations.
Liza affirms this further with her collaborations with Tom Dreyer, drawing another element into her exhibition with his poetry. Liza explains that during the process of eventual conceptualisation, she'd worked closely with Dreyer, and soon the metaphor between text and paint began to overlap in small ways. "I began to see each square canvas as a paragraph." His poem Supernova is an homage to Cecilia Payne-Gaposchkin, someone no doubt key to Liza's thinking as she has dedicated the series within the exhibition, Cecilia Payne and the Fabric of the Universe, to the woman's namesake as well.
believing that sun and earth were amalgams
of the same material they dismissed you
when you spoke of hydrogen stars
as if spectral lines can lie
During discussions, Liza expressed her desire to incorporate many elements into her body of work, to "make the process the product." The canvas emulating the structure of stanzas of poetry, to the poems created by Dreyer. The poems which drew audiences members in with an offering of another kind of imagery which widened the scope of the exhibitions discussion. Cells, Cataracts and Water Lilies (Diptych) captivate me here, in the midst of discovering both Liza Grobler's art and her personal vision. The collection of coincidences that arrive at the gates of observation are the self-same tools Grobler incorporates confidently into her body of work. Dreyer's poetry become the strings tied between the canvas'; tethering you to the journey of 'A Rainbow in my Pocket' as you uncover all the ways in which the world reiterates itself.
The process is most evident to me as my eyes roam over pieces such as those in the Fabric of the Universe series once more. The twists of the knots, the listless yet vibrant hanging pieces that you could swear are tricks of light. If there's a takeaway here, it's that assigning something on a whim to something else you've known all your life can change both of those things. For Grobler, the creation of these works is an act of learning and discovering; nudging the viewer closer to some kind of epiphany that they feel perpetually on the brink of. This endless shifting from here to there to trap herself within the undefined confines of creation, is summarised beautifully by a quote of her own which Grobler attributed to the show: "Reality is always shifting and, as an attempt to make sense of it, so am I."
Liza purposefully moulded her exhibition to the Everard Read space, creating pathways and experiences throughout the traversal of the building which add to the intention of her work. "It's the first time I'm having a painting-only show," she tells me. "I wanted to incorporate all of my elements into a painting, instead of reducing painting to a simple element." What began as quick sketches, turned to 30 x 30cm pieces, which then climbed the large walls of her studio to grow to become the two-metre installations of 'A Rainbow in my Pocket', which take their time unveiling their colours and their magic to you, if you allow them.
In the beginnings of her artistic journey, Liza was encouraged by her institution in Stellenbosch to move between disciplines, which lead her to her use of knitting. There was also an apparent Bauhaus influence that had a large impact on her relationship to arts and crafts, which she draws upon to this day. Liza described this learning curve as a "freedom and fluidity," that helped her to engage with knitting. It also affirmed her belief that the space in which the work is displayed helps to connect and contextualise the work itself, giving the space its own role to play.
'A Rainbow in my Pocket' asks where the coincidences lie, and what they become when we keep them, and compare them to what else stays with us in our ongoing journey. It asks us to remember where we've been and all those feelings we've carried with us since; to cherish our memories, and also to challenge them. Liza summaries the exhibition in her own words saying, "it's a colon, not a full stop." There is no clear answer in 'A Rainbow in my Pocket', but there is certainly the joy of the question, and every door that that first question can open.
Link to full review here: https://artthrob.co.za/2019/10/31/moments-movement-and-memory-in-conversation-with-liza-grobler/
Back to News