BIOGRAPHY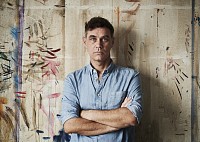 MATTHEW HINDLEY
(b. 1974 Cape Town, South Africa)
Matthew Hindley graduated from the Michaelis School of Fine Art, Cape Town in 2002; where he was awarded the Michaelis Prize.
As one of the countries' most recognised younger painters, Hindley's intense, poetic and delving artworks have featured in various critical and seminal South African exhibitions. His most recent solo painting presentation The Brush Itself Incite was held at the SILO hotel Vault Gallery in Cape Town, in 2019.
In addition, he has presented at the world-renowned Eli and Edythe Broad Museum, Michigan (2012) and the Kochi Muziris Biennale, India (2012). In 2014 he worked on a series of paintings inspired by the mythological African tales of South African writer Don Mattera, for a book published by Rhodeworks, in Berlin, Germany.
In 2015 his artwork was part of the imago mundi, Benetton Collection at the Venice Biennale, and his major public sculpture Speak Naturally and Continuously was installed above the entrance of the South African National Gallery in Cape Town, South Africa. This artwork was rebuilt in late 2018/early 2019 and reopened to the general public interaction May 2019.
EDUCATION
2002
Bachelor of Fine Arts, University of Cape Town, Cape Town, South Africa
SELECTED SOLO EXHIBITIONS
2021
Upcoming, Everard Read, Johannesburg, South Africa
Double Rainbow, Knysna Fine Art, Knysna
2019
The Brush Itself Incites, Vault Gallery, Silo Hotel, Cape Town, South Africa
2018
The Divided Self, Everard Read, Cape Town, South Africa
Survey of Risk, David Krut, Johannesburg, South Africa
2015
Resurrection (Der Brennende Wald), Everard Read, Cape Town, South Africa
The Five Magic Pebbles & other stories (by Don Mattera), David Krut Projects, Cape Town, South Africa
2013
Twilight of the Idols, Biksady Galeria, Budapest, Hungary
2012
One Pearl of Great Price, VOLTA8, Basel, Switzerland
2011
The Solo Project, Basel, Switzerland
An Everlasting Once , Brundyn+, Cape Town, South Africa
2009
Like, like, like, like a Circus , Brundyn+ Wembley Project Space, Cape Town, South Africa
Black Out , Brundyn+, Cape Town, South Africa
2007
Private Vernissage (with Kromschröder & Pfannenschmidt), Berlin, Germany
2006
Before My Time, 34Long, Cape Town, South Africa
2005
Speak Naturally & Continuously , Iziko South African National Gallery, Cape Town, South Africa
2004
Klein Karoo National Arts Festival, Oudtshoorn, South Africa
Surrender, Bell-Roberts Gallery, Cape Town, South Africa
SELECTED GROUP EXHIBITIONS
2021
In Conversation, Everard Read CIRCA, Cape Town
Summer, Everard Read, London, UK
2020
Investec Cape Town Art Fair, with Everard Read, Cape Town, South Africa
2019
Filling in the Gaps, Iziko South Africa National Gallery, Cape Town, South Africa
Self, Gallery at Glen Carlou, Stellenbosch, South Africa
Winter, Everard Read, Cape Town, South Africa
2018
Summer, Everard Read, Cape Town, South Africa
Investec Cape Town Art Fair, with Everard Read, Cape Town, South Africa
2017
FNB JOBURG Art Fair, Everard Read /CIRCA Booth, Johannesburg, South Africa
Winter Collection, CIRCA Gallery, Cape Town, South Africa
Turbine Art Fair with 50ty/50ty, Johannesburg, South Africa
2016
365 Days of Projects & Collaborations, David Krut, Johannesburg, South Africa
AKAA Art Fair, with Everard Read, Paris, France
FNB JOBURG Art Fair, David Krut Projects (DKP), Johannesburg, South Africa
Inch x Inch, David Krut Projects (DKP) Johannesburg, South Africa
CAPE TOWN ART FAIR, Everard Read/ CIRCA Gallery Booth, Cape Town, South Africa
2015
Homage, Everard Read, Cape Town, South Africa
Empire, Everard Read, Cape Town, South Africa
Imago Mundi - Map of New Art, Benetton Collection, Fondazione Giorgio Cini, Venice Biennale, Italy
2014
TWENTY: Contemporary Art From South Africa , Turchin, Centre for the Visual Arts, Appalachian State University, North Carolina / Traveling to the Beijing Biennale, China in 2015
2013
Material/Representation, Brundyn+, Cape Town, South Africa
2012
Collateral Segment - BRICS, Kochi-Muziris Biennale, Kochi, India
Global Groove, Eli & Edythe Broad Art Museum, Michigan, USA
2010
Spier Contemporary Biennial, Cape Town, South Africa
2009
Dada South, South African National Gallery, Cape Town, South Africa
2007
South African Art, Danubiana Art Museum, Bratislava, Hungary
2005
Videobrazil, WWWF Anthology Performance, Brazil
2004
A Decade of Democracy: Witnessing South Africa, National Center for African American Arts, Boston, USA
2003
On the road again, Engler & Piper Projekte, Berlin, Germany
MTN New Contemporaries, Museumafrica, Johannesburg, South Africa
2002
In no particular order (vol.1), 16th Recontres Video Art Plastique, Normandy, France
2001
World Wide Video festival, Arti et Amicae, Amsterdam, The Netherlands
AWARDS
2005 Winner of the permanent public art installation competition, South African National Gallery
2002 Michaelis Prize, UCT, Cape Town, South Africa
2002 Simon Gershin prize, UCT, Cape Town, South Africa
1994 Irma Stern prize, UCT, Cape Town, South Africa
SELECTED PUBLIC COLLECTIONS
Vass László Collection, Veszprém, Hungary
IZIKO South African National Gallery, Cape Town, South Africa
University of Cape Town Collection, Cape Town, South Africa
PUBLICATIONS
2014 Artwork for The Five Magic Pebbles, and other stories written by Don Mattera, published by Rhodeworks, Berlin
2004 A Decade of Democracy: South African Art 1994-2004, edited by Emma Bedford, published by the Iziko Museums of Cape Town, South African National Gallery