BIOGRAPHY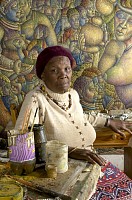 MMAKGABO HELEN SEBIDI
(b. 1943 Marapyane (Skilpadfontein), South Africa)
Mmakgabo Mmapula Helen Sebidi was born in 1943 in the Hammanskraal area of what was then the Northern Transvaal. As her mother was working as a domestic worker in the city for much of her childhood, she grew up with her grandmother. Mmakgabo Sebidi spent much of her young adult life (she left school after Grade 8) as a domestic worker in Johannesburg. When a German employer – Heidi – started painting, Sebidi expressed an interest in painting herself and was given her first set of oil paints. She then sought lessons and finally joined the art classes of John Koenakeefe Mohl before returning to Marapyane in 1975 to look after her ailing grandmother. During the early '80s she also trained at the Katlehong Arts Centre to improve her clay technique. In 1985, Sebidi had her first solo exhibition at FUBA. Through the exhibition she met Bill Ainslie, who encouraged her towards more abstracted work.
Mmakgabo Sebidi's accomplishments were recognised in 1989 when she was approached by the American Embassy with a view to applying for an international award. She won the award and was given a Fulbright scholarship to travel to the USA, where she had a placement at the Millay Colony for the Arts in Austerlitz. While in North America, she also spoke at Yale and Mississippi Universities and attended a 45-day workshop in Washington. That same year Sebidi also won the Standard Bank Young Artist Award in South Africa.
From the 1990s to the present, Sebidi had travelled and exhibited throughout the world, including the UK, Holland, South America and the US. Her work is in various public collections around the world including the National Museum of Women in the Arts, Washington and New York, USA, the Smithsonian National Museum of African Art, New York, USA and the World Bank. In 2004, President Thabo Mbeki awarded her the Order of Ikhamanga (the Strelitzia or Bird of Paradise Flower) – which is the highest honour given to those considered a "national treasure". She was awarded the Lifetime Achievement Award for Visual Art, South Africa, in 2011, and in 2015 the Mbokoto Women's Award, in South Africa. In September 2018, Sebidi was honoured with one of the first solo presentations at the Norval Foundation in Cape Town – a retrospective entitled Batlhaping Ba Re.
Sebidi's art also demonstrates an attempt to go back to a pre-Christian, pre-colonial Africa – to a range of symbols, a value system and a way of making meaning of the world that can still be found in pockets in the rural areas. Working predominantly in pastel, acrylic and oil paint, she has developed a distinct style that uses vibrant juxtaposed colour, rough surfaces, distorted perspectives, abstracted human and animal figures, and dream images – often in a pointillist, stippled style of pastel or paint application. More recently she has returned to sculpting in clay, and this exhibition features the first of her sculptures ever to be cast in bronze.
SELECTED RECENT SOLO EXHIBITIONS
2018 Batlhaping Ba Re, Norval Foundation, Cape Town, South Africa
Tears of Africa, CIRCA Cape Town, South Africa
Crossing Night, part of the Hacer Noche Festival, Santo Domingo due Guzman, Oaxaca City Mexico
2017 They Are Greeting, Albany Museum, Grahamstown Festival, South Africa
2016 They Are Greeting, Everard Read Gallery Johannesburg South Africa
32nd Fundação Bienal de São Paulo, Brazil
Mmakgabo Sebidi: An Exhibition of paintings and prints, Michaelis Galleries, Cape Town, South Africa
BIOGRAPHY

1959
Left Khamane School after completing standard 6 and went to seek work in Johannesburg.
1960s
Worked in domestic service where she learnt European-style cooking, and practiced dressmaking as well.

1970-3
Studied informally with John Koenakeefe Mohl.

1975
Returned to Marapyaane in March to care for her grandmother who died in 1981.Continued to paint and to visit Mohl in Johannesburg.

1977
First exhibited at Artists under the Sun, Joubert Park.

1984
Commuted between Marapyane and Johannesburg.

1985
Began improving her clay technique at Katlehong Art Centre. Became interested in pottery - making pots and sculpting and taught these skills to children at the centre.

1986-7
Worked at the Johannesburg Art Foundation, improving under the guidance of Bill Ainslie and others, taught at the Alexandra Art Centre.
1987-8
Participated in the Khula Udweba Art teachers´ project organized at FUNDA by the African Institute of Art.

1988
Awarded a Fullbright scholarship to travel to the U.S.

1988-9
Visited the United States and Europe, addressed many different centres, worked at the Millay for the Arts, Austerlitz, New York.
1990
Toured South Africa and Namibia. Spent two months in the United Kingdom.
Visited Baltimore in the USA.

1991
Visited Sweden.

1993
Visited Amsterdam, Holland

1994
Visited Lisbon.

1995
Visited Chile.
Group exhibition and visit by invitation to City Gallery, Atlanta, Georgia.

1998
Represented South Africa at the Lisbon Expo.

1998
World Wide Workshop and Exhibition, Melbourne, Australia.