BIOGRAPHY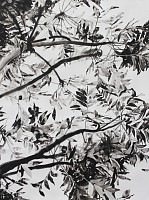 TANYA POOLE
(b. 1971, St John's, Newfoundland)
Tanya Poole (b. 1971) was born in St John's, Newfoundland, and grew up in Bahrain, England and South Africa. She graduated with an MFA from Rhodes University in 1998. Trained primarily as a painter, Poole has also worked with video, performance, installation, theatre design and, most recently, paint animation. She made her solo debut in 1996 at the Standard Bank National Arts Festival in Grahamstown, followed by five more solo exhibitions from 1998 to 2000.
However, she found that she needed a new language for her art making process, and in 2001 she began experimenting with combining traditional painting and video in the medium of animated painting, a technique ideally suited to the concepts she was exploring. She produced the work that earned her the joint First Prize in the 2004 Brett Kebble Art Awards. She was also awarded the Eastern Cape Premier's Award for her contribution towards art in the Eastern Cape.
Apart from her work being exhibited in group and solo exhibitions nationally, Poole has also participated in exhibitions abroad: "Collection of South African Art", at The Chicago Institute and the South African Embassy, USA (1996); "Three Women" at the Mattamondo Gallery, Notting Hill, London (2000); "Possibilities" (curated by the Bell-Roberts Gallery) in Mumbai, India (2007); "Juncture: New Paintings from South Africa" at the Artspace, Linienstrasse, Berlin, Germany (2010); and "Mullinspoole" (with Nigel Mullins) in Liemen, Germany in 2011.
Since 1998 she has also done the set, props and costume design for a number of theatre productions, including the set, props and costume design for Andrew Buckland's award-winning "Fuse" which toured Grahamstown, Edinburgh, Cape Town, and Johannesburg.
Poole is the Head of the Section for Painting in the Fine Art Department of the Rhodes University in Grahamstown.
SOLO EXHIBITIONS
2019
Ancient Codes, Everard Read CIRCA Gallery, Cape Town
2017
The Island, Everard Read Gallery, Cape Town
2014
The Becoming Child, Underculture Contemporary, Port Elizabeth; and Liebrecht Gallery, Somerset West
2010
Juncture: New Paintings from South Africa, with solos by Nigel Mullins and Luan Nel, Artspace, Linienstrasse, Berlin, Germany
Last One Standing, Artspace, Johannesburg
2007
Drift, Bell-Roberts Gallery, Cape Town
2005
Missing, Franchise Gallery, Johannesburg
2000
Inner Site Violence (with concept collaborator Clare Keenan), Grahamstown
Bedtime Stories, Dorp Street Gallery, Stellenbosch
1999
Inner Site Violence, St James, Cape Town; and Millennium Gallery, Pretoria
1998
Limnetic Zone (with photographs by Angela Lazaro), Standard Bank National Arts Festival, Grahamstown
Exhibition in Three Parts: Masters degree submission, including paintings, video installations and performance art, Rhodes University, Grahamstown
1996
Behind the Green Door, Standard Bank National Arts Festival, Grahamstown